NEWS & EVENTS
The 7 Best Museums in Rhodes
26 March, 2019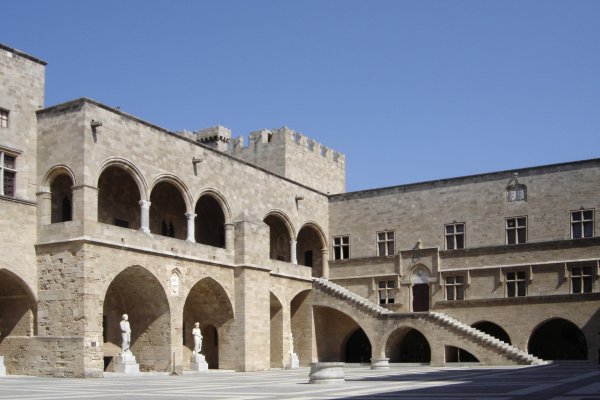 For some of us, a holiday is not a true holiday unless you come away with some new found knowledge. Human nature compels us to learn more and understand our environment and museums in Greece are famous for their eye opening exhibitions and love for their history. Visiting Rhodes is no exception, you can expect to discover ancient communities, traditions and structures – some of which still stand today. 
The Archaeological Museum of Rhodes
Location: Rhodes Town TripAdvisor Rating: 4.5 stars
Once the Hospital of the Knights of St John, this museum is situated inside an ancient structure. From gravestones and burials to hospital beds, the site is in excellent condition and there is a lot for a visitor to see. Guests could easily spend an entire day here if they want to, because there's just so many artefacts in such a glorious space. The Venus of Rhodes (statue) is also kept here and is quite an important historical monument in Rhodes, depicting the goddess Aphrodite bathing.
Bee Museum
Location: Kalithies-Pastidas TripAdvisor Rating: 4.5 stars
This interactive museum is great fun for the whole family. Estimated time spent here is 1-2 hours, and the best time to visit is the morning to avoid any crowds in the museum. At the Bee Museum you can see real beehives as well as explore how bees survive, how they make their money and how their hive functions. There are games and videos that keep the children entertained and there is a gift shop which sells a variety of the bee's own products which are both reasonably priced and excellent quality – a brilliant gift to take home for your friends or family.
Rodos Nature Folklore Museum
Location: Kolympia TripAdvisor Rating: 5 stars
If you want to familiarise yourself with the history of Rhodes, this museum is a must see. The islands' history is documented through an amazing collection of traditional Greek artefacts, from flora and fauna to typewriters, blankets, parts of transport and photographs. The staff are friendly and very informative, ensuring every guest leaves with a smile and a new wealth of knowledge for how the Rhodian people lived.  Each artefact has a story behind it and the staff are eager to explain everything to you as you go round. Even if you only spend an hour here it is a really cheap little trip out and the knowledge you will gain will be well worth it.
There is also a gift shop if you're looking for a souvenir.
Jewish Museum
Location: Rhodes Town TripAdvisor Rating: 4.5 stars
This is another museum which you can spend a couple of hours at and is integral if you wish to understand the plight of this small community. The museum tells lots of stories and also has important and powerful messages about Jewish history in Rhodes. From the history 1000s of years ago, to their persecution during World War 2, the museum tells the heart breaking timeline of the Greek Jews, leaving many visitors emotional. It is a must see. 
Koskinou Traditional House
Location: Kallithea TripAdvisor Rating: 4.5 stars
You can eat substantial meals here, but many visitors come to Koskinou Traditional House to see the historical relics of Rhodes' past that have been collected here.
If you do chose to stop in the taverna for a meal, you can try a variety of Greek specialities on the 'Greek plate' which is an excellent trying plate meal. If you come for the artefacts you can expect to find an enormous collection of Rhodes' history, from plates to crafts, blankets and more.
The museum is popular for the fact it is free and relies on donations, giving this museum a real sense of community that not all of the others offer. The staff here are incredibly friendly and able to speak many languages, which has helped them share the culture of Rhodes as well as show visitors where else nearby they should visit. 
The Cultural and Geological Palace of Rhodes
Location: Rhodes Town TripAdvisor Rating: 5 stars
This museum is by appointment only, but don't let this put you off. The creator and owner is very friendly and happy to show people around. This museum is a bit of a best kept secret of Rhodes. It is created to look like an Ancient Greek house - in an effort to bring to life the ruins and wreckages you will see in abundance around the island. In everything from the interior decoration to the exterior walls and gardens, it is all like you are taking a walk back in time. Cleverly arranged in different historical times, you travel through an Ancient Greek section into a more early 20th Century section.
Tsambika Byzantine Museum
Location: Lindos TripAdvisor Rating: 4.5 stars
One of the most colourful and ornate museums on the list, the Byzantine museum is a must see. Inside you can light a candle for a small donation!
Please note: There is a dress code, but they provide everything you need if you do not come suitably covered up. But don't be put off by this, everybody is expected to cover shoulders and legs and the scarves will do this for you easily. You also cannot take photographs.