NEWS & EVENTS
Ηiking in Rhodes - 3 Routes to Explore This Summer
12 April, 2019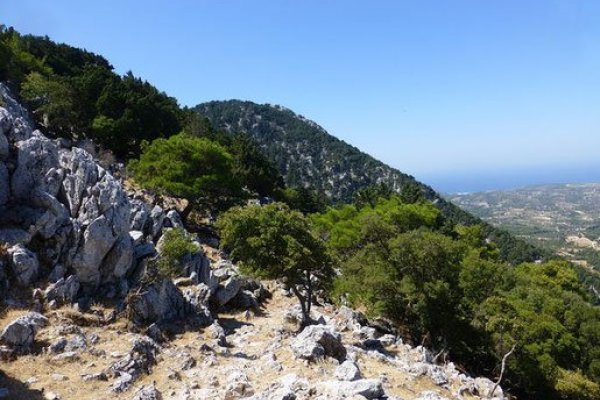 For some, a trip to Rhodes is about lazing by the beaches and taking some much deserved time off. For others, Rhodes is an adventure waiting to happen. From monuments to mountains, there's a lot to explore on this picturesque island. When you wish to explore an island, like Rhodes, there are many ways you can do this, by car or by horseback for example. But nothing compares to where your feet can take you!
With that in mind, we've highlighted 3 of the best routes to go hiking in during your holiday to Rhodes. From spring through to summer, autumn and winter you will find Rhodes is perfect for hiking, but make sure you take plenty of water in hot weather.
As this article is aimed at finding you hiking routes for your summer holiday, will look at three easy-medium routes that you won't find too exerting in the mid-summer heat. Alternatively, if you wish to try longer routes or harder routes, or even if you wish to take your time and enjoy the three suggestions we have for you below – we recommend you go early in the morning or in the evening, to avoid the heat of the day and any risks of dehydration, heatstroke and sun damage.
Suggestion 1: The Conqueror's Hill
The Conqueror's Hill is an easy hike, which will take you just over 1 hour and starts in Filerimos and ends at the beach. This is the same route that the crusaders and also the Turks once used to enter Rhodes.
This hike gives you an excellent view over the north of the island. There are historical churches to explore on your route as well as a lazy stroll down to the beach through the fir trees to end. This is what makes the walk perfect for the entire family and a great way to start your day, so you can spend the rest of it by the sea, relaxing.
Parking is available at the kiosk of the Conqueror's Hill, where you begin.
Follow steps by the main kiosk, downhill. When you reach the abandoned incomplete building, turn left.
Walk through the overgrown area until you reach another set of steps which takes you to a street.
You will cross this street and follow the tracks on the other side repeatedly, following the map. On this part of the journey you will find an ancient Turkish fountain, old walls and also picnic areas. When you reach the point with the water basin, you can follow the footpath on the street toward Trianda and the beach!
 Suggestion 2 – Mount Elias
This 2-4 hour walk has 1 hour of uphill and multiple descent options. The walk goes from Salakos to the peak of Profitis Elias. Salakos is well connected with bus routes, so it's easy to get to and many people spend a night in this part of town to absorb the food on offer and enjoy what the evening brings.
Start in the village square in Salakos
Follow red dotted path markings on your route. Only a few minutes in you will reach a shrine.
After about 30 minutes you will have done the steepest part of your journey and it should get easier!
Taking detours you can visit monuments like St Michael's Chapel. You can also see abandoned buildings whose history lay in the Italian Administration. They are named Elafas and Elafina and while the Italians used them to escape the heat, they were later used as hotels until they were abandoned. Around here, you can also find a café to stop after the first hour of your trek.
After about 65 minutes you will reach the peak – a great spot to rest before choosing your descent.
Suggestion 3 – The Citadel on the Sea
Another perfect walk for summer days, this is a circle walk that takes roughly 4 hours (2 hours if you skip seeing the village of Kritinia) but stops off at shady corners, quaint village squares, includes a seaside dip and via some exciting ruins.
Start beneath the citadel of Kritinia
Follow dirt tracks as you head ever closer to the village of Kritinia. You will be able to see the largest mountain (1215m high) on Rhodes, Ataviros, throughout the duration of this part of your hike.
You'll come to a farmhouse, water basin and grain mill, during the first hour of following these tracks.
You will also be able to see the best preserved castle on Rhodes during this hike, the Kastelos Kritinia, at about half way.
For more detailed instructions for these hikes, check out Google Maps, or ask us for more details on a variety of hikes you can take when you arrive. Locals will have excellent recommendations for you and you should seek their expertise. For example, if you come in spring, there are some other walks that have beautiful blooming flowers to see such as the Mountain Meadows beneath the Akramitis.